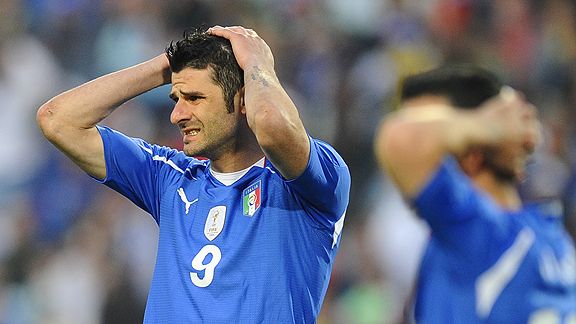 Italy is the latest world soccer power to crash out of the World Cup long before expected. Truthfully, the defending champions had looked very mediocre only managing to secure 2 points in their first 2 games with draws against Paraguay and New Zealand. The mediocrity continued on Thursday when the Italians put on a very poor first half performance that left them 1-0 down at the half against Slovakia.
Needing a win to move on, Italy didn't look interested as they showed a lack of creativity. While they struggled to create chances, they were still in the game down just 1-0. Their faint hopes seemed to be smashed when Robert Vittek of Slovakia got his second goal of the game in the 73rd minute.
While Slovakia fans were sky high already looking towards their next game, things got interesting when Antonio Di Natale pounced on a rebound to make the score 2-1. Just moments later  second half substitute Fabio Quagliarella tapped home what looked to be an astonishing equalizer, but he was correctly judged offsides by the slighest of margins.
As is the case so often in soccer, the Italians were caught napping following a near goal of their own. A brilliant run by Kamil Kopunek who had just come on, allowed him to clip a perfectly lobbed shot over the Italian keeper to seemingly put the game to rest. In a true case of World Cup drama though, Fabio Quagliarella put life back into the Italians with a breath taking chipped shot from outside the box that floated over Slovakia goalkeeper Jan Mucha into the top corner.
Ultimately, it was a little too late for the Azzurri as the final whistle blew and several players dropped to the pitch in tears. A severe disappointment following the glory of four years ago, the Italian team will surely face harsh criticism when they return home just like the French squad.