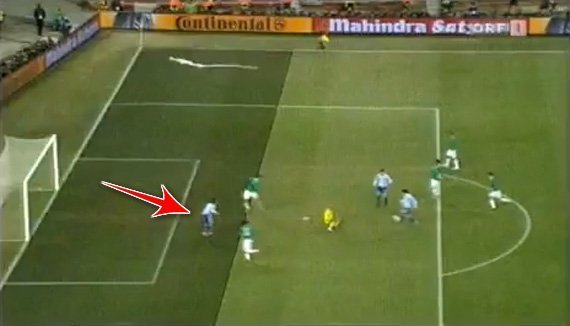 As the horrendous spell of major refereeing mistakes continues at this World Cup, FIFA has reacted in a quite dumbfounding way. Instead of addressing the numerous, blatantly wrong decisions made by it's referees, FIFA has announced that all in-stadium replays will be censored.
In case you missed it, Argentina took a 1-0 lead in their match against Mexico yesterday on a clearly offside goal that was allowed to stand. In-stadium replays clearly showed that the goal should not have counted, causing several of the Mexican teams staff to confront the referees as halftime was called.
Following the game, FIFA did it's best to deflect the negative attention surrounding the blown call by saying that replaying the incident in-stadium was "a clear mistake."
"This will be corrected and we will have a closer look into that," FIFA spokesman Nicolas Maingot told a news conference Monday. "We will work on this and be a bit more, I would say, tight on this for the games to be played." The problem is, his comments were in reference to the in-stadium replay being shown, instead of the referees getting the call right.
To make things worse, this was the second game changing referee blunder of the day. In the early game between Germany and England, referees failed to award a clear goal to the English which would have tied the game at 2-2 heading into the half.
Unfortunately for FIFA, the very legitimacy of their beloved game is being questioned on the world's biggest stage as the referees are deciding games instead of the players themselves. Long known as stubborn and slow to act, FIFA is going to face some very big decisions following the World Cup with the public outcry for video replay in crucial situations growing exponentially.