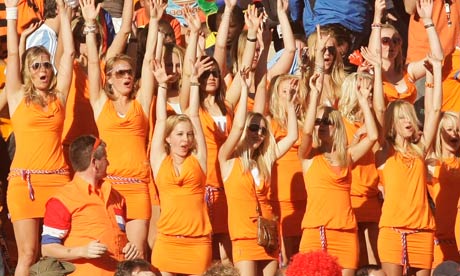 What at first glanced looked like a large group of female Dutch soccer supporters having a great time cheering on their country, turned into something far more serious. During Mondays match between the Netherlands and Denmark, 36 Dutch women were ejected from Johannesburg's Soccer City stadium after they were accused of being part of an organized ambush marketing campaign.
If you are wondering what ambush marketing is, here is a pretty solid definition of the term. Ambush marketing is a tactic whereby a company attempts to ambush or undermine the sponsorship activities of a rival that owns the legal rights to sponsor an event; often involves creating the sense that they, and not the actual sponsor, are associated with the owners of the event or activity.
After the larger group was ejected from the game, 2 of the women were arrested under the Contravention of Merchandise Marks Act, which prevents companies from ambush marketing after they were identified as the ring leaders of the stunt.
So what were the women marketing you ask? You guessed it, they were promoting Bavaria, a dutch brewery, which obviously is a competitor of official beer sponsor of the tournament, Anheuser Busch.
Anheuser Busch's Budweiser is the official beer for the tournament and FIFA vigorously protects its sponsors from brands which are not FIFA partners.
This isn't the first time Bavaria has clashed with FIFA over ambush marketing. Four years ago at the Germany World Cup, FIFA ordered scores of Dutch men to remove orange lederhosen bearing the name of Bavaria.