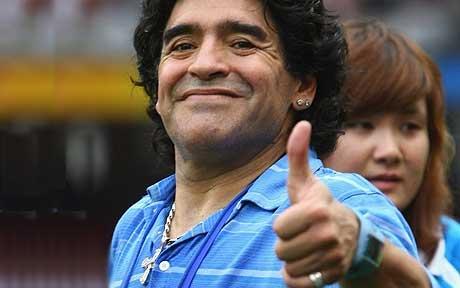 Maradona wants a job and wants one now. English club chairmen beware – appoint this legend at your own peril.
At the ripe age of 50, Diego has announced he is now interested in managing in the Premier League.  As the coach for the Argentinian national team, the legend took his team to the World Cup quarter-finals in South Africa, an accomplishment few believed was possible.  Despite his success, he was quickly replaced for his odd antics and unruly relationships with the Argentinian FA. Without the Argentinian national team to keep him busy, he is now in search of a new adventure in the Premier League.
With his colorful track record, it seems it would be hard for a team to balance the legends obvious soccer know-how with the controversy he would bring.  Given, he'll bring lots of "marketing opportunities" to your team. Most of it will, however, be bad. There would surely be more wild claims about conspiracies against him and plots from within to ruin his reputation, although he seems to do that just fine on his own.
There's always been the debate as to whether El Diego is the greatest player of all time. For most sound minds there's nothing to debate – he leaves Cruyff, Di Stefano and Beckenbauer all in his wake. When it comes to management, however, the only debate should be whether he should ever again be allowed to take charge – of any team, anywhere.