In a move that is sure to bolster the popularity of Manchester United amongst Mexicans, the Red Devils have signed striker Javier "Chicharito" Hernandez  from Mexican club Chivas in an attempt to bolster their attacking options.
Wonder kid Hernandez has scored four goals in his first four matches for Mexico and looks set to feature for Mexico at the World Cup finals in South Africa. The 21 year old is awaiting a work permit and if it goes through as expected, he will join United in July following the World Cup.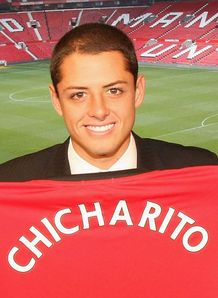 The deals terms were not disclosed, but as part of the agreement, Manchester United will play a friendly at the awesome new Chivas Stadium in prior to next season.
"Chicharito" Manchester United Jerseys will be available soon from SoccerFanatic.com
"Chicharito" Mexico Jerseys Available Now at SoccerFanatic.com
Sir Alex Ferguson told the club's official website:
"I am delighted to reach agreement with Chivas to bring such an exciting young striker, who has been in such prolific form for both his club and his country.

"He will be a great addition to our squad and we look forward to welcoming our first Mexican player in the summer. We are equally excited to play our first game in Mexico, opening the magnificent new Chivas Stadium in July."
"Chicharito" as he is known, will be the first Mexican player to take the field for Manchester United.
Below is a excerpt of Hernandez's first interview with MUTV.
Firstly, Javier, how does it feel to have signed for United?
It's a dream and I feel so happy. I've really enjoyed my week in Manchester – the stadium, the atmosphere at the club and the history are incredible and I want to do great things here.

You were at the Bayern game – what did you make of the experience?
I felt a lot of things and, as I said, I'm living a dream. The atmosphere was incredible with all the fans singing. It was fantastic to see.

What sort of player are you?
I just like to enjoy myself. I want to win every day and I hope I can do great things.

You've met Sir Alex – what were your impressions of the manager?
He is a great person and probably the best coach of all time. All my impressions of the team, the club and the city are incredible.

Your family must be very excited at the prospect of you playing for the Reds…
Yes, they are. My family are my biggest supporters and have been there with me through the good and the bad times and they have supported me a lot, so they're very pleased.

United will play in Mexico this summer – what reception can the team expect?
The best. In our country Manchester United are the top team and the reception they will get will be fabulous.