It was a bad weekend for everyone with a stake in David Beckham. AC Milan, England and especially the MLS will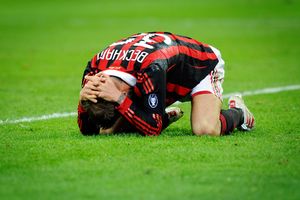 have serious issues to contend with after David Beckham tore his achilles tendon late in AC Milan's match on Sunday. Beckham was alone by himself at the center circle when he received a pass with his left foot and took a step forward before coming up hobbling. He reached a hand down to his left heel, then stood up and gestured as if he was breaking a twig in half to show the AC Milan bench he knew the tendon was broken. Visibly in pain and in tears, Beckham was carried off for medical attention.
The injury will be a huge personal blow for Beckham who looked set to make the England World Cup team for an unprecedented fourth time. While the Finnish doctor who will operate on Beckham this week said their is still "a glimmer of hope" he could be ready for the World Cup in June, it is very unlikely as achilles injuries are generally very serious and require extensive rehab. On the positive side, several players have come back from similar injures to play at a high level, meaning the injury likely will not be career ending for Beckham.